Quality Management
Certification to ISO 9001
Our Quality Management System forms the basis of our company policy. Demands and expectations of customers are our quality guidelines for all processes and this applies from the enquiry stage through to product delivery. In order to ensure that this is fulfilled it is monitored by our process orientated Quality Management System which has been certified to DIN ISO 9001 since 2000.
ISO 9001 is a Norm of the International Organisation for Standardisation , which establishes the demands for quality management systems and is intended to ensure constant quality for customers.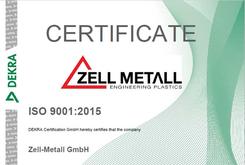 ISO 9001 Certificate
You may download the current certificate here under (PDF, 140 KB).
ISO 9001 Certificate